Editing list parameters
To edit the list of parameter values:
Name the list parameter.
Enter a Description.
Display: Select how you want the list parameters to be displayed in the component's parameters:
In a combo box





As radio buttons





As images: Drag and drop images to represent each list parameter. An additional parameter appears. It allows you to choose between a single column display of the images and a two column display.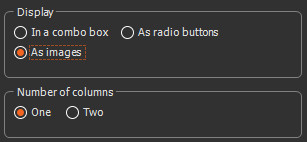 For example: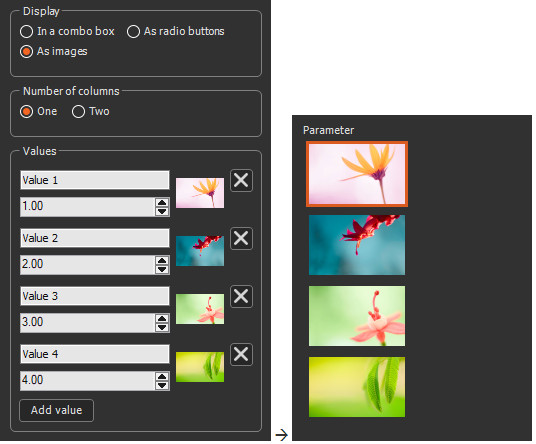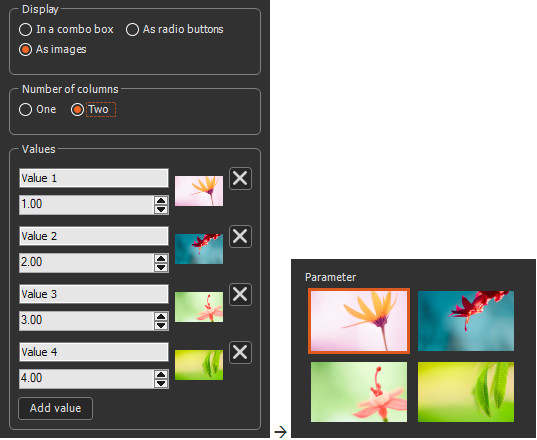 To prevent images from being cut off, the width of the images should not exceed 63 points for a two-column display.
Set the Values. You can define as many values in the list as you want by clicking on the Add value button. For each value, define a name and the corresponding output value.
Set the Default values: Set the default value to use when a new node is created by selecting a value in the combo box.
Set the Visibility. By default, the parameter is always visible. When Hidden when or Disabled when is selected, additional parameters appear to define the condition in a second combo box that contains the list of all parameters of the On / off parameter and List parameter. See Parameter visibility for details.