Downloading a region
Once the selected area is suitable, click the Download region button in the top left of the window.
The parameters window opens.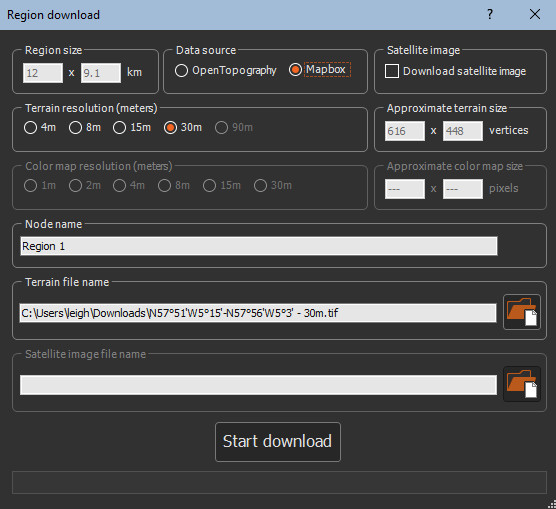 The approximate of the size of the terrain is set according to the source and the chosen resolution.

The resolution may depend on the location of the downloaded data, especially the latitude. The resolutions "4 meters", "8 meters", etc. are therefore indicative values. The final resolution is indicated in the import node of the downloaded terrain. Most of the time, the final resolution is at least equal to or better than the indicative resolution displayed.
For example, a terrain is downloaded with an indicative resolution of 4 meters. The real resolution of the downloaded terrain, visible in the import node, is 3.68 meters.



Select the site to be used for downloading data. Two sites are available:

OpenTopography: https://opentopography.org/: OpenTopography is free to access and does not require registration. It can download elevation data with a resolution of about 30 meters or 90 meters. It covers most of the Earth, between latitudes 60°S and 60°N.
Mapbox: https://www.mapbox.com/: Mapbox requires a subscription. Free subscriptions are available. It can download elevation data with a resolution of approximately 30 meters, 15 meters, 8 meters or 4 meters. It covers most of the Earth.
Only the resolutions available for the chosen source can be selected. Some resolutions may not be available if they lead to too small or too large a terrain.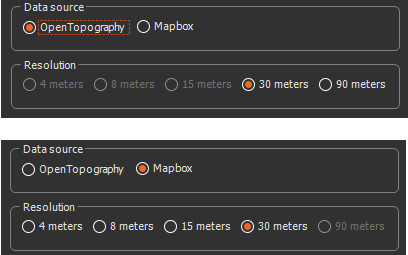 The minimum size of a terrain is 16 x 16.

The maximum size of a terrain is 8192 x 8192 for Instant Terra. This limit does not exist in Instant Terra Unlimited and Instant Terra Pro.
See Using Mapbox for more information.
Set the Resolution:

4 meters, 8 meters, 15 meters, 30 meters, or 90 meters.

Choose the name of the import node that will be created.
Name the File in TIFF format that will contain the downloaded terrain.
Click the Start download button: Instant Terra connects to the selected site to download the region.

When the download is complete, an import node is automatically created to import the downloaded terrain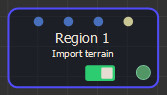 When downloading several regions one after the other, the nodes are created one below the other.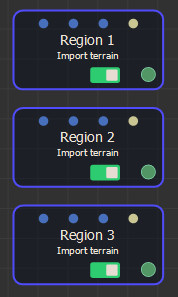 If the download area is too small (approximately less than a square kilometer), a message is displayed:

If the area to download is too large (more than 4,050,000 km²), a message is displayed:

If the area is between 450,000 and 4,050,000 km², it can be downloaded with a reduced resolution (Coarse), but not with a Precise resolution. In this case, the Precise resolution option is grayed out.

If your downloads remain in the state 'Connecting to the server ...' or searches are unsuccessful, your firewall may be blocking connections. To resolve this situation, add InstantTerra.exe (usually installed here: C:\Program Files(x86)\Wysilab\InstantTerra) to the firewall white list.