Adding a Select node
The Select node allows you to select an input from a variable number of inputs between 2 and 10. It can be connected to any type of data: terrain, mask, color map, color map, color ramp, value, file name, or color.
This node is particularly useful in components to select an input according to parameters or calculation results.
To add a Select node, select Edit in the main menu or right-click in the Graph Editor and select Create Node > Calculation > Select.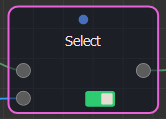 Double click on the node to open its parameters.