Adding a terrain Multi blend node
This node blends an unlimited number (in practice up to 10) of terrains using the different blend modes available in Instant Terra.
By default, it has three input connectors:
The first is the terrain, which serves as a base. It determines the size of the terrain. All other terrains are blended onto this one.
The second is the terrain to blend with the first one. It constitutes the first layer of the node. Several other layers can be added.
The last connector is an optional mask used to define the places where the blending should take place. It is shared by all layers.
If two different masks are needed for two layers, two Multi blend, Blend, or Full composition nodes must be used instead of one Multi blend node.
To add a node, right-click in the Graph Editor and select Create Node > Terrain composition > Multi blend.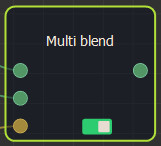 Double click on the node to open its parameters: