Adjusting the altitude
Once the sub-materials have been chosen, the next step is to determine the places on the terrain where each of the layers will apply. To do this, click on Edit layers in the parameters window.

Instant Terra displays the window for editing the material layers: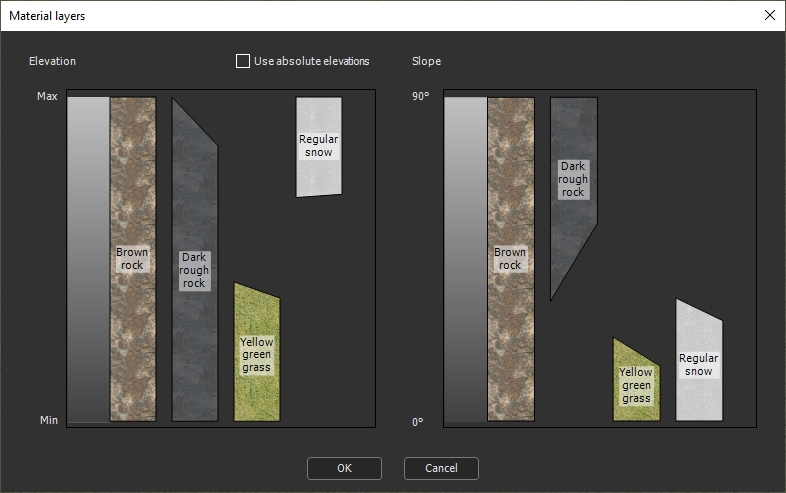 For each of the layers of the material, you can define the altitude as well as the slope of the zones of the terrain on which the layer of the material will be applied.
The left part of the window is used to define the minimum and maximum altitude of the areas of the terrain on which the material layer will be applied. In the example above,
The layer containing the Brown rock sub-material is applied everywhere.
The layer containing the sub-material Yellow-green grass will only be applied to the lowest parts of the terrain, up to a certain altitude.
The layer containing the Regular snow sub-material will be applied to the highest parts of the terrain.
To modify the parameters of a layer, position the mouse cursor on the lower or upper part of the bar representing the layer. A black dot appears. Click on the black dot and move the mouse up or down while holding the button down. Instant Terra displays the altitude limit, between 0% and 100%.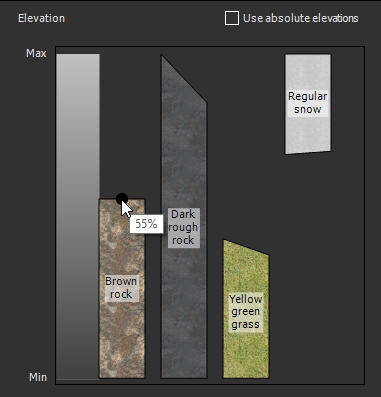 You can define a transition between the layers by tilting more or less the upper part or the lower part of the rectangle representing the layer:
Example of a sharp transition: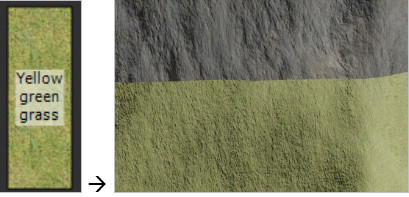 Example of a smooth transition: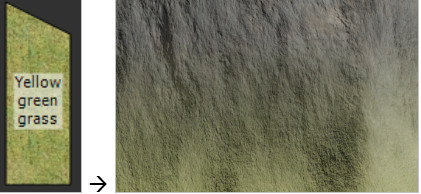 By default, the minimum and maximum elevations of the layers are relative to the terrain elevations. 0% corresponds to the lowest altitude point and 100% corresponds to the highest altitude point.
Absolute altitudes in meters can be used by checking the Use absolute elevations box: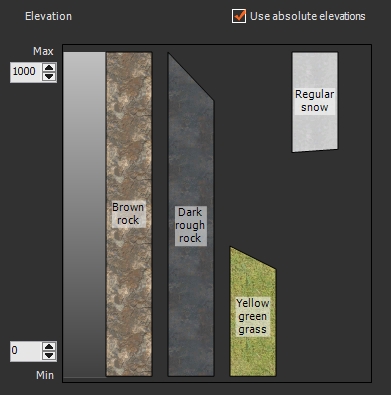 The minimum and maximum altitudes in meters to be used can be defined.
Warning: If certain parts of the terrain are located at an altitude lower than the minimum altitude, or at an altitude higher than the maximum altitude, no material layer can be applied to these parts of the terrain.