Adding a Advanced material node
Advanced material node - Tutorial video
The Advanced material node creates a material, which can then be applied to terrain with an Apply material node.
A material is a set of repeating textures (tiles) that can be applied to different places on a terrain according to rules based on elevation and slope. Each layer of a material contains exactly one sub-material. A sub-material contains a set of textures that correspond to a single effect, for example, a rock sub-material or a grass sub-material.
Below is an example of different sub-materials.

A material allows different sub-materials to be combined together using one sub-material per layer.
Below is an example of terrain before and after applying the default material:

Unlike the Simple material node and the Material node, which use rules based on the elevation and slope of the terrain, the Advanced material node uses masks to determine where to apply each layer of the material. For each layer, it has an input connector to specify the sub-material to use and an input connector to specify the mask to use.
Below is an Advanced material node with one layer: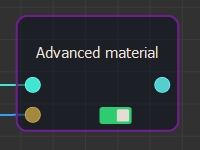 Below is an example of an Advanced material node with three layers: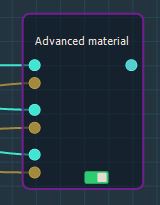 Use a Sub-material node or User sub-material node to create a sub-material and connect it to the Advanced material node.
To add a Advanced material node, right-click in the Graph Editor and select Create Node > Materials > Advanced material or press the keyboard shortcut NADT (Node ADvanced Material).
Double click on the node to open its parameters.