Adding a Sub-material node
The Sub-material node creates a sub-material from a list of predefined sub-materials provided by Instant Terra. This node must then be connected to a Material node or an Advanced material node to provide a sub-material to a layer of a material, which can then be applied to terrain with an Apply material node.
A sub-material contains a set of textures that correspond to a single effect, for example, a rock sub-material or a grass sub-material.
Below is an example of different sub-materials.

To add a Simple material node, right-click in the Graph Editor and select Create Node > Materials > Sub-material or press the keyboard shortcut NSBA (Node SuB Material).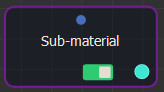 Initially, no sub-material is selected, and the node is invalid: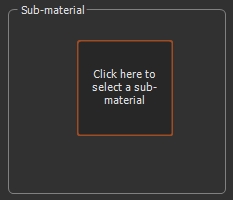 Click Click here to select a sub-material to open a window that allows you to choose a sub-material from the list of sub-materials in Instant Terra: