Adding a User sub-material node
The User sub-material node creates a sub-material from imported data.
This node must then be connected to a Material node or an Advanced material node to provide a sub-material to a layer of a material, which can then be applied to terrain with an Apply material node.
A sub-material contains a set of textures that correspond to a single effect, for example, a rock sub-material or a grass sub-material.
Below is an example of different sub-materials.

To add a Simple material node, right-click in the Graph Editor and select Create Node > Materials > User sub-material or press the keyboard shortcut NSBA (Node SuB Material).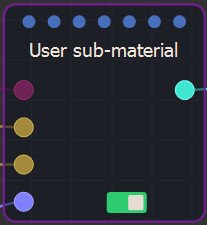 Below are examples of textures used to create a sub-material:

From left to right: Base color, Roughness, Ambient occlusion, Normal map
Only the Base color color map is mandatory. The Roughness and Ambient occlusion masks and the Normal map are optional, but it is strongly recommended to add them to obtain good quality rendering.